Fresh Docs screening – Friday, February 24, 2017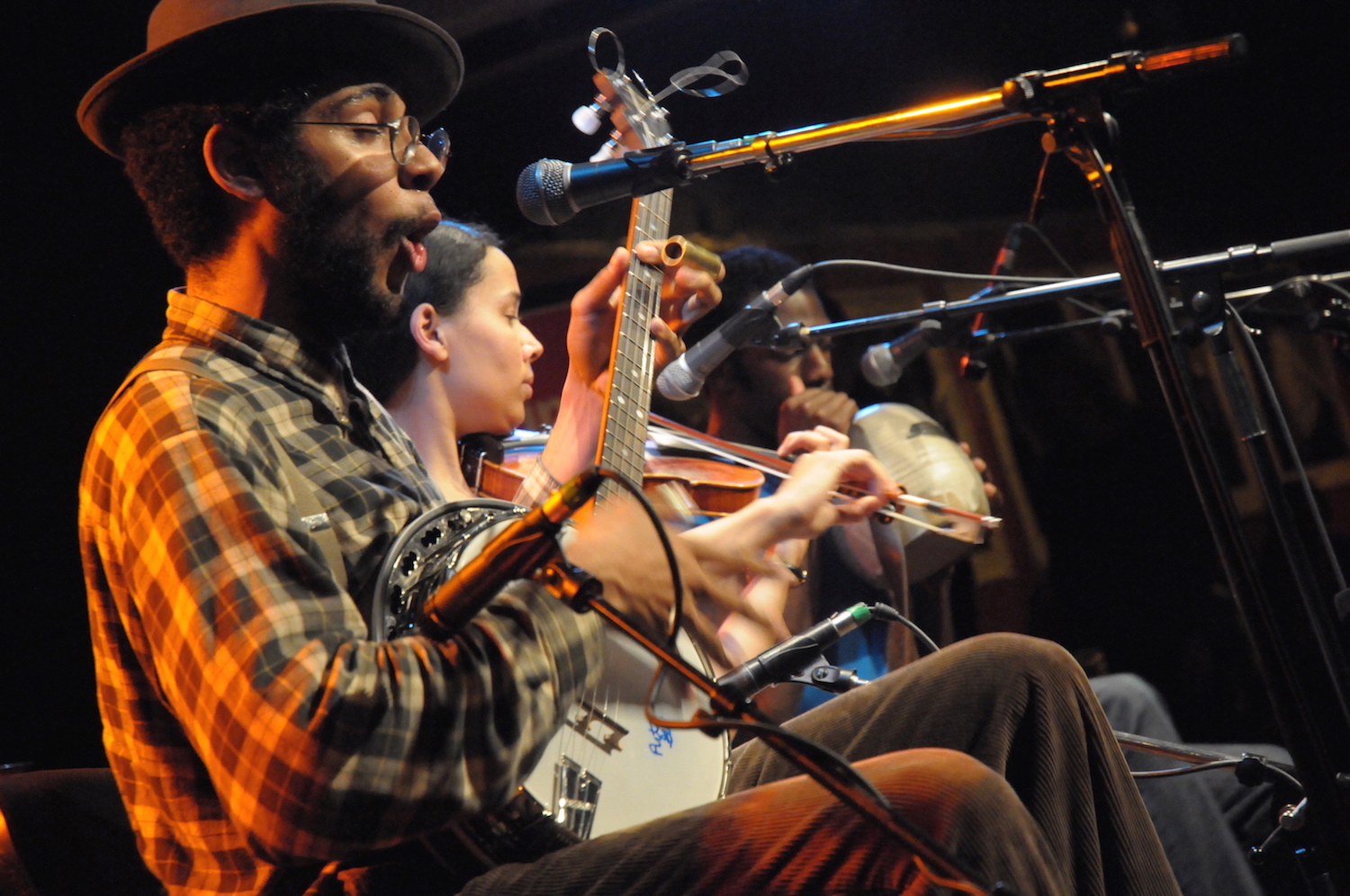 The Center for Documentary Studies and the Southern Documentary Fund are pleased to present a free screening of John Whitehead's film Don't Get Trouble in Your Mind: the Carolina Chocolate Drops' Story, a documentary portrait of the Carolina Chocolate Drops, an African-American string band from Raleigh, North Carolina, and their mentor, black fiddler, Joe Thompson (1919—2012). The Chocolate Drops play "old time" music or Appalachian fiddle and banjo music. The film tells the story of how three African-Americans from the hip-hop generation embraced a 19th Century genre and took it to new heights, winning a Grammy in 2010. The story of the band's meteoric rise, from busking on the street to playing major festivals is punctuated and informed by the history of the banjo's origins in Africa, and the untold story of how blacks and whites collaborated to create the earliest forms of American popular music.
The film is presented as part of the Fresh Docs series featuring documentary works-in-progress; following the screenings, a moderated conversation with the filmmaker will be held, during which the audience provides valuable feedback.
John Whitehead is an independent filmmaker whose work ranges from social issue documentaries to humor and parody. His recent projects include the Emmy-Award winning documentaries, Transplant: A Gift For Life, and First Speakers: Restoring the Ojibwe Language. He co-produced, wrote, directed and edited the five-part documentary series Minnesota: A History of the Land. Whitehead's credits include the national PBS documentaries Make 'Em Dance: The Hackberry Ramblers' Story and Wannabe: Life and Death in a Small Town Gang. As Senior Producer for Arts and Culture at Twin Cities Public Television, St. Paul, MN (1990-98), he produced the documentaries, Death of the Dream: Farmhouses in the Heartland; Clay, Wood Fire, Spirit: The Pottery of Richard Bresnahan; Not Quite American: Bill Holm of Minneota; A State Fair Scrapbook; and Mississippi, Minnesota. He also co-created and produced the landmark interview series Portrait and the award winning documentary series Tape's Rolling! Mr. Whitehead's work has earned eight regional Emmy Awards, an HBO Films Producer Award, a Corporation for Public Broadcasting Award, and the Gold Plaque from The Chicago Film Festival. http://www.fretlessfilms.com/