SDF is hiring! Seeking Program Manager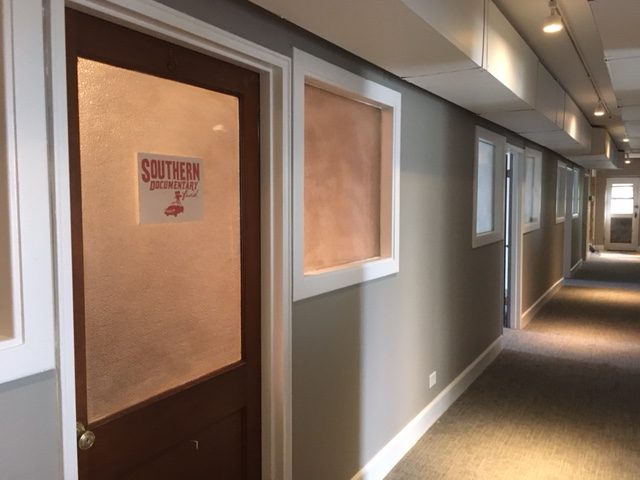 The Program Manager will report to the Executive Director and work closely with the Program Director, with support from the Program Associate.  The Program Manager will administer the following programs:
Mentorship Program:
The PM will work with the ED and PD to build a mentoring program that will pair established filmmakers with emerging filmmakers and emerging filmmakers with new filmmakers.
Grant Program:
The Southern Documentary Fund (SDF) will offer grants ranging from pre-production through final phase to filmmakers throughout the southern states. Working with the ED and the PD, the PM will craft guidelines for the grant, promote the call for entries and reach out to potential panelists from the documentary industry.  The PM will provide constructive feedback and maintain detailed records of the process.
Fresh Docs:
The PM will work closely with the PD and the ED to help SDF expand our Fresh Docs program to cities across the South.
Preferred Qualifications (5 to 7 years of experience):
Business and program management experience within a non-profit setting;
Exceptional leadership, organizational and planning skills, with demonstrated experience managing multiple projects effectively and collaboratively;
Ability to take initiative and build or improve upon systems and processes;
Strong familiarity with submission management software such as Submittable;
Strong knowledge of film production processes and budgets.  First-hand experience is preferred, i.e., Producer, Director, Associate Producer;
Grant writing experience;
Impeccable attention to detail;
High-level oral and written communication skills;
Proficient with CRM programs such as Insightly, all MS and Google products;
Emotionally mature and self-aware;
Sense of humor is essential;
Racial Equity Institute (REI) training (preferred).
Compensation & Benefits:
This is a full-time, salaried position.
$41,000 – $45,000 range, depending on experience, plus 10 days PTO + Federal holidays and a health insurance stipend.
To apply, send cover letter, resumé and 3 references (two professional, one personal) to: Info@southerndocumentaryfund.org
Please include in the subject line of the email:  PM Job Applicant
No phone calls, please.
Deadline to apply: Friday, October 27, 2017, 5:00 PM EST