October 17, 2017
Location: Durham, NC
WHAT'S THE BIG IDEA?
Good Pitch is the place where filmmakers and changemakers meet the partners they need to tell the most urgent local stories
Good Pitch is an initiative of Doc Society – a nonprofit committed to enabling great documentary films and connecting them to audiences globally.
For  the past 10 years Good Pitch has helped raise over $29 million for filmmakers and their outreach campaigns, hosting events in major cities across the world with the mission to build a global network of filmmakers and organizers.
WHY HERE, WHY NOW?
With a new resolve to bridge divides and make new alliances, the Good Pitch program is going LOCAL – working at the state, county, town and city level of engagement.
Good Pitch wants to find and support local voices in North Carolina by connecting filmmakers with local funders, local organizers, local lawyers, local educators, local policy makers and local media to shape innovative media that can galvanize their communities.
GOALS
CATALYZE NEW LOCAL COALITIONS between local filmmakers, local organizers and local funders, creating new short multimedia projects that can be used online to create both local and national impact.
BUILD STORY PARTNERSHIPS that reach across the divides of party politics, region, race and class in new ways.
SHARE NEW MODELS AND EXPERTISE for community film engagement and using short form media for impact.
BUILD LOCAL CAPACITY so that the new relationships that Good Pitch Local catalyzes can continue to generate new work and new possibilities in the state for years to come.
HOW DOES IT WORK?
We will gather 150 participants who are carefully selected to attend from across the state of North Carolina. We are inviting the most engaged filmmakers, storytellers and journalists with a project in progress – or a bright idea for one – with an ambition to make local impact. Joining them will be the most innovative and active organizers, community foundations and philanthropists, newspapers and radio stations, lawyers and policymakers all interested in collaborating on local stories that can inform, inspire, rally and engage.
Ideas will be pitched by creatives or journalists looking for partners, but also by community organizers, lawyers or funders who work closely on issues that need better media exposure or who crave creative new approaches to tell their important stories.
Good Pitch crosses boundaries to bring together filmmakers, social justice advocates, environmental conservationists, funders and a mix of others to weave a network of storytellers and the people who can enhance the impact of those narratives.
Polita Glynn, Pew Charitable Trust
Good Pitch is the two day affair that filmmakers need so desperately. It is the months of work it would take and puts it in a day day event. Best tool I have ever seen in my 10 years making films.
Stephan Rich, Filmmaker
Good Pitch local was amazing! There was a dynamic and electric synergy between pitchers and local organizations. I left feeling energized and ready to amplify stories that can have an impact in my hometown. If you believe that your community needs more powerful narratives, then Good Pitch local is the place to be!
Ani Mercedes, Impact Producer / Filmmaker
Good Pitch Local Miami not only connected me to innovative filmmakers and change agents, but it also provided me with a fresh perspective and appreciation for the power of film and media in creating long lasting change in our communities. I walked away with new partners, ideas and stories to share.
Daniel Gibson, Allegany Franciscan Ministries, Florida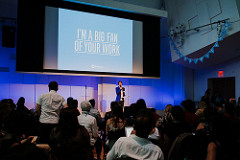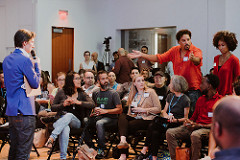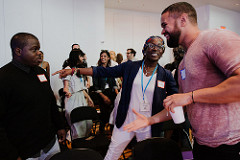 Photos of Good Pitch Local Miami
If you are interested in participating, please fill out this questionnaire. 
For more information, contact:
Alba Jaramillo, Good Pitch Local: alba@docsociety.org
Local Collaborators: