Photos from this year's Happy Hour Party are located here.
Here for Full Frame? We know you'll need to break for refreshment and a few rays of late afternoon sunlight in between a packed schedule of great docs.  
Come raise a glass (or a plastic cup) with SDF on Friday from 4-6pm at the wonderful  Carrack Gallery, right around the corner from the Carolina Theater in downtown Durham.  
We'll be celebrating the two SDF-sponsored films screening at the festival this year: BY SIDNEY LUMET, Full Frame founder Nancy Buirski's portrait of the iconic director; and the powerful animated short  I, DESTINI by Nicholas Pilarski and Destini Riley.  We will also toast the world premier of Margaret Byrne's RAISING BERTIE, which was awarded an SDF Filmmaking Grant in 2014. While we're at it, we'll drink to our growing stable of fantastic projects and makers–all of YOU who have helped SDF become a cornerstone of the southern documentary community.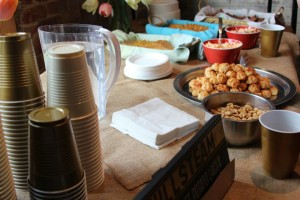 SDF Full Frame Happy Hour
@ The Carrack Gallery
111 W. Parrish Street
Friday, April 8, 2016
4 – 6 pm
Browse Full Frame's schedule here.